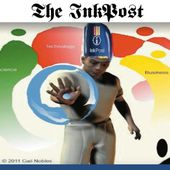 Listen in to popular podcasts and radio shows from around the world or start your own with Spreaker!
The InkPost was intended to be a newspaper. I did get one copy published into a tabloid. However, I felt that I didn't have enough content to keep it going. Then later I decided to make it a podcast to publish it as a newspaper later.
The InkPost is about colorful news. There are episodes such as: The Man Struck by Lightening, The Door Man That Blocks Us, One Human Race, and more. When you have time to listen, stop by and check out the stories.